The Old Beaver River and Port Maitland Cemeteries Preservation Society will be having a General Meeting on November 21, 2011 at the Port Maitland Fire Hall at 7 p.m.
The General Meeting is open to all members, and new members may join at the meeting – All interested people are welcome !
One of the items that will be talked about will be the Society's new website and logo. The executive has looked at two possible logos to use for the Society, and would like to hear from people either by e-mail (send messages to  oldstones@billcurry.ca ) or in person at the meeting.
The two logos being considered are stylized versions of a Willow tree, a symbol which is fairly unique, but also widely used in our cemeteries. The images are a representation of those symbols such as are found on Abial Crosby's stone in the Founder's Cemetery.
The two images are: (click on either for a larger view)
a.)
OR
b.)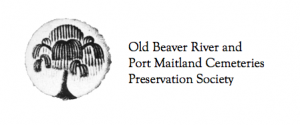 Let us hear from you as to which you prefer…
See you in November!