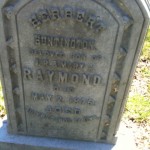 Herbert Huntington Raymond
Calvinist Baptist Cemetery, Marker #6
(1856-1875)
You might miss the inscription on Herbert's grave marker. It's on the back of the "white bronze" marker that bears the names of his brothers Abel and Silas.
Herbert was born in Yarmouth Township 17 Feb 1856 and died of consumption (tuberculosis) in Beaver River 2 May 1875 at the age 19 years 2 months 14 days. While some sources say he was born 16 Aug 1856 we have chosen to calculate his birth date from his age at death as given on his grave marker. Herbert was the seventh of nine children of Joseph Robbins Raymond and Mary Ann Chute. His mother is buried in the same cemetery near him. Six months following his mother's death, Herbert's father remarried. We do not know his place of burial.
Herbert was almost certainly named after the prominent Liberal politician, Herbert Huntington, who represented this area in the Nova Scotia Legislature from 1830 to 1850, serving as a cabinet minister, finance secretary and member of the Executive Council.
Herbert's grave marker is one of only two in the Old Stones cemeteries that was made of what is often referred to as "white bronze" although the colour is blue and it's made of zinc. The marker has the names of three brothers who died at the ages of 19, 20, and 32 between the years 1875 and 1879. The first to die was Herbert.
Herbert is a Mayflower descendant. Through his father he is descended from Mayflower passengers Isaac Allerton, John Billington, John Howland, John Tilley and Richard Warren.
More about Herbert, his parents, and siblings appears in the Old Stones Family Group Sheet Index.
Please leave a comment if you have any additional information about Herbert particularly his place of birth within Yarmouth Township.