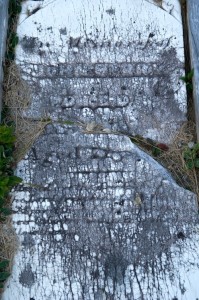 John Perry
Founders Cemetery, Marker #2
(abt 1791-1862)
Epitaph: Blessed are the dead who die in the Lord henceforth saith the Spirit they may rest from their labors and their works do follow them
This is probably the John Perry who was born in Yarmouth Township 22 Jan 1790 and died 17 March 1862. If correct, his age of death would be one year greater than the 71 years stated on his grave marker. Today most of the text on the marker is illegible including his age and the last two numbers of his year of death although the date—17 March—can be read. His epitaph cannot be deciphered today. One other discrepancy concerns the spelling of John's surname. It appears in some records, including his record of birth, as Parry; however, it was not unusual for the Parry spelling to later become Perry. There are examples of this happening with other members of the Parry/Perry family who are buried in Old Stones cemeteries.
Fortunately two transcriptions were made of markers in the Old Stones Cemeteries before acid rain and normal wear and tear had taken their toll. The first was completed about 1899. It records a John Perry who died 17 March 1862 and was buried in this cemetery. It is almost certainly the same John Perry. The second transcription was done in the 1990s when the year of death had worn but the age of death and the epitaph were still legible.
The information on his grave marker leads us to believe he is the son of John and Tryphena (Smith) Parry. John Jr. married Sarah Trask, daughter of Thomas and Susanna (Porter) Trask. They had eight children, the eldest of whom, Thomas, is buried in the Free Will Baptist Cemetery.
John is a Mayflower descendant. Through his father he is descended from Mayflower passengers John Alden and Richard Warren.
More information about John and his family will be found in the Old Stones Family Group Sheet Index.
Please leave a comment if you are able to substantiate or refute the identity of John Perry given in this profile or if you know the cause of his death, his place of residence or the burial place of his wife who, according to some sources, died the same year he did.