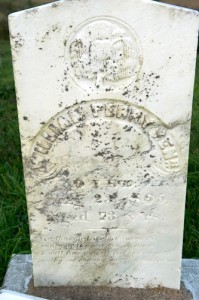 William Perry
Founders Cemetery, Marker #21
(1792-1865)
Epitaph: Yea though I walk through the Valley of the shadow of death, I will fear no evil for thou art with me. Thy rod and thy staff they comfort me
William was born in Yarmouth Township 8 April 1792, the son of John and Tryphena (Smith) Parry. In some early records his surname is spelled Parry, the spelling used by his father John. We have chosen to use the Perry spelling which appears on his grave marker. It was probably used by him in his adult years. William's grave marker says he died 23 Aug 1865 while his Digby County death record places his death in Beaver River of "heart disease" a week earlier on 16 Aug 1865.
William married first Alice "Elsie" Corning. We do not know the date or place of their marriage. Elsie is buried next to him and named on a separate grave marker. They had seven children. One son, Reuben, is buried in the Free Will Baptist Cemetery. Other children may have been buried in Founders Cemetery and later removed to the currently active Port Maitland Beaver River Cemetery (aka Island Cemetery).
Sometime after Elsie's death William married Edith (Corning) Porter, the widow of Josiah Porter who was also buried in Founders Cemetery although his grave marker is no longer there. We have not found a date for this marriage. Edith's burial place is a mystery. Possibly she was buried next to her first husband and was named on his grave marker.
William is a Mayflower descendant. Through his father he is descended from Mayflower passengers John Alden and Richard Warren.
More about William and his family appears in the Old Stones Family Group Sheet Index.
Please leave a comment if you have any additional information about him, particularly the date and place of his marriages.