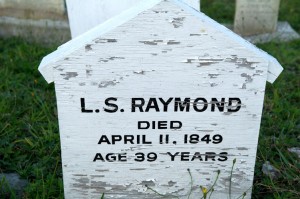 Lemuel S Raymond
Founders Cemetery, Marker #43
(1820-1820)
Lemuel was born, probably in Beaver River, about 5 Jan 1820 and died there 57 days later on 4 March 1820, the eleventh of thirteen children of Jonathan and Elizabeth "Betsy" (Robbins) Raymond. His parents were likely buried in one of the Old Stones cemeteries and later removed to Island Cemetery, the active cemetery for Port Maitland and Beaver River. The record for their removal says they were first buried in the "old burying ground." We do not know which of the three Old Stones cemeteries had that designation. Why were Lemuel's remains and grave marker not removed as well?
Lemuel is the only known child of Jonathan and Betsy who did not live into adulthood. Their first child, Robbins, died at sea unmarried. The remaining eleven all lived long enough to be married.
Lemuel is a Mayflower descendant. Through his mother he is descended from Mayflower passengers Isaac Allerton, John Billington and Richard Warren. Through both his mother and his father he is descended from passengers John Howland and John Tilley.
While there were probably others before him, Lemuel's burial is the earliest known in Founders Cemetery and therefore the earliest known burial in any of the Old Stones cemeteries. It was not uncommon at that time for the deceased to be buried on family homestead property. It's possible that Founders Cemetery began as a family burial site although more research is necessary.
More about Lemuel, his parents and siblings will be found in the Old Stones Family Group Sheet Index.
Please leave a comment if you have any additional information about him, particularly the cause of his death.