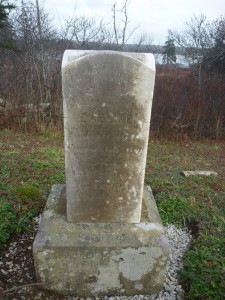 Emeline (Durkee) Eldridge
Free Will Baptist Cemetery, Marker #26
(~1856-~1876)
According to her grave marker Emeline died, age 20 years, possibly on 2 April 1876. The final number of the year is not clear on the marker. She likely died in 1875 or 1876. As Emeline married Jacob Perry on 13 February 1875 it would have to be after that date. If the cause of death was childbirth—at the time the most common cause of death of married women of Emeline's age—one could speculate that 1876 was the likely year. It is improbable it would be 1877 as Jacob remarried in August of that year. Emeline is buried near her parents, Joseph R and Hannah (Porter) Durkee, and her name appears on the same grave marker.
Information about Emeline's parents appears in the  Old Stones Family Group Sheet Index.
Please leave a comment if you have additional information about Emeline, particularly her dates of birth and death.