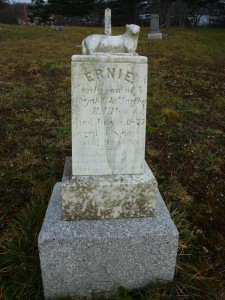 Ernie Ellis
Free Will Baptist Cemetery, Marker #1
(1882-1887)
Epitaph: Transplanted to the Eden above to obtain his full bloom in immortal glory
Ernie Ellis was born about October 1882 and died in Beaver River of "scarlet and brain fever" on 8 July 1887 at the age of 4 years and 9 months. On his birth record his name appears as Ernest Hemain Ellis. He was possibly the only child of Martha E Crosby and Abijah E Ellis.
Located at the front of the Free Will Baptist Cemetery, almost in the centre, the small grave marker of Ernie Ellis is one of the best known, and most photographed in the cemetery. We are fortunate it is still there. One of our volunteers tells the story that, as a child, he was in a car with his mother who saw a man and woman removing Ernie's gravestone from the cemetery and putting it in the trunk of their car which had license plates other than Nova Scotia. This was well before the restoration of the cemetery had started and much of it was overgrown with alders. The volunteer told us, "I never saw my mother so angry. She got out of the car, and in no uncertain terms, told the couple who were stealing the gravestone to put it back; which they sheepishly did."
One of Ernie's ancestors may have been William Knowlton, whose grave marker in Shelburne is among the earliest for any English settler in Nova Scotia, it simply reads "William Knowlton, 1632". Ernie is also a Mayflower descendant, being descended from Mayflower passengers, William Brewster, John Howland and John Tilley.
Information about Ernie and his parents appears in the Old Stones Family Group Sheet Index.
Please leave a comment if you have additional information about Ernie's family, particularly whether he had any siblings.