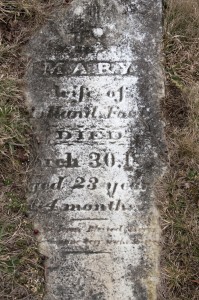 Mary (—?—) Fault
Calvinist Cemetery, Marker #7
(1834-1858)
According to her grave marker Mary died 30 March 1858, age 23 years, 4 months. From her age at death we can assume she was born about November 1834. Her grave marker says she was the wife of Holland Fault. That is all we know about her. No records have been found for a Holland Fault in this area. The surname Fault is usually associated with Lunenburg County. Given her age it's not unreasonable to think Mary may have died in childbirth. There is no indication of a child being buried near her nor of a child with the surname Fault growing up in the vicinity.
Unfortunatley no additional information about Mary and her family appears in the Old Stones Family Group Sheet Index. Can you help us add to it?
Please leave a comment if you have any additional information about the identity of Mary. She is one of the least known residents in the three cemeteries.