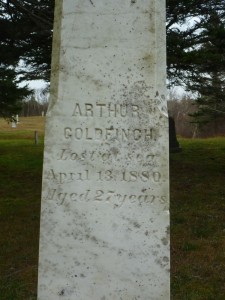 Arthur Goldfinch
Free Will Baptist Cemetery, Marker #34
(~1853-1880)
Arthur was born about 1853. On 13 April 1880,at the age of 27, he was washed overboard from the barque Bachelors on a voyage from New Orleans to Rouen, France. Bachelors was out of Maitland (now Port Maitland). Arthur was her chief mate. His body was not recovered. He was not married.
Arthur was the fifth of eight children of Henry and Matilda (Bennison) Goldfinch. His parents are buried at this site and named on the same marker. Arthur's sister Sarah, who died in Curacao, is also named.
Look for Arthur's name on the Lost to the Sea Memorial on Yarmouth's waterfront.
Further information about Arthur, his parents and siblings appears in the Old Stones Family Group Sheet Index.
Please leave a comment if you have any additional information about this young man.