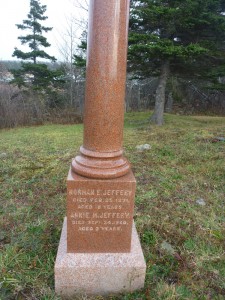 Annie M Jeffery
Free Will Baptist Cemetery, Marker #24
(1857-1860)
Annie was born 10 Apr 1857 and died just over three years later on 24 Sep 1860. She was one of ten children of Robert and Catherine (Pitman) Jeffery. Her parents are buried near her and named on the same grave marker. Annie is probably the niece of Aaron Jeffery who is buried in the Calvinist Baptist Cemetery. Her name appears in one source as Margery Anne Jeffery—we have used the name that appears on her grave marker. We know little about where the family lived, although her brother, Norman Edgar, who is also buried near her, died in Maitland (now Port Maitland) which is probably where the family lived.
More about Annie, her parents and siblings appears in the Old Stones Family Group Sheet Index.
Please leave a comment if you have any additional information about Annie, particularly the cause of her death at such a young age.