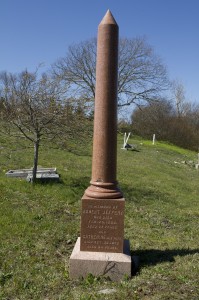 Catherine (Pitman) Jeffery
Free Will Baptist Cemetery, Marker #24
(1825-1879)
Catherine was born 11 Aug 1825 and died 26 Oct 1879. She was the daughter of Asa and Sophia (Flint) Pitman, both of whom are buried in the same cemetery, as is her husband, Robert Jeffery who is named on the same grave marker. Catherine and Robert were married 16 Dec 1849 and had ten children, two of whom, Norman Edgar and Annie M are named on the same grave marker as their parents.
More about Catherine, her family, her parents and siblings appears in the Old Stones Family Group Sheet Index.
Please leave a comment if you have any additional information about Catherine or any members of the Pitman or Jeffery families.