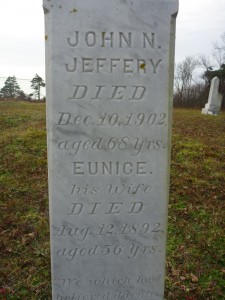 Eunice (Frost) Jeffery
Free Will Baptist Cemetery, Marker #19
(~1837-1893)
Eunice was born, possibly in Argyle, about 1837 and died 12 Aug 1893 at the age of 44. She married John Nelson Jeffery in Beaver River 5 March 1858 or 1859. They had 7 known children. John is buried near Eunice and is named on the same grave marker. While more research is necessary we believe Eunice may be the daughter of Phillip and Almira (Goodwin) Frost of Argyle. John is probably a brother of Philip who is buried in the Free Will Baptist Cemetery and a brother of Aaron who is buried in the Calvinist Baptist Cemetery. In the 1881 Census Eunice and John said they and their children were Free Baptist. It is likely they attended the church on the grounds of the cemetery where they are buried.
More about Eunice, her children and her family may be found in the Old Stones Family Group Sheet Index.
Please leave a comment if you have any additional information about Eunice, particularly about her parents and place of birth.