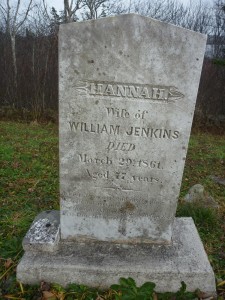 Hannah (Goudey) Jenkins
Free Will Baptist Cemetery, Marker #25
(~1783-1861)
Hannah was born about 1783 and died 29 March 1861, the daughter of Philip and Sarah (Main) Goudey. We do not know Hannah's birth date nor her birth place. Her birth year estimate comes from her grave marker which says she died age 77. Hannah married William Jenkins, about whom we know very little. He was born 17 April 1758, the son of Griffith and Mary (Moore) Jenkins. His death date and place of burial have not been found.
Hannah and William had ten known children. One son, George, married Clarissa Saunders who is also buried in the Free Will Baptist Cemetery.
More about Hannah, her children and her family appears in the Old Stones Family Group Sheet Index.
Please leave a comment if you have any additional information about Hannah, particularly about her early life and the death of her husband William.