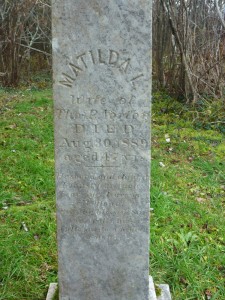 Matilda L (Pitman) Norton
Free Will Baptist Cemetery, Marker #39
(~1842-1889)
Epitaph: Husband and children I must leave you. Leave-yes, leave you all alone. But my blessed Saviour calls me, calls me, calls me to a heavenly home
According to her grave marker Matilda died 30 Aug 1889. Her year of birth is more difficult to determine as her grave maker says she died at the age of 47 which would give a birth year of about 1842, yet her marriage record says she was 25 when she married in Feb 1874 which would give a birth year of about 1848 or 1849. Possibly Matilda was older than 25 when she married as her mother would have been 50 in 1849. Matilda is the daughter of Asa and Sophia (Flint) Pitman who are buried in the same cemetery, as are her sisters Abby Jane and Catherine.
Matilda married in a Baptist ceremony in Yarmouth Township 28 Feb 1874 Thomas P Norton, a seaman from Halifax. According to their marriage record Thomas was born about 1846 as he married at the age of 28. It is not known whether they had children. Matlida's mother, Sophia, married first Aaron Shaw who died two years after they married. Matilda was probably Sophia's youngest child, growing up with two  step-sisters; four sisters and three brothers. She was living in Maitland (now Port Maitland), presumably in the family home, at the time of her marriage. Thomas was living in Halifax at the time.
More about Matilda, her parents and siblings will be found in the Old Stones Family Group Sheet Index.
Please leave a comment if you know more about Matilda, particularly the date of her birth. and whether she and Thomas had children.