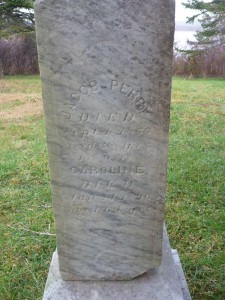 Caroline (Cann) Perry
Free Will Baptist Cemetery, Marker #35
(~1825-1890)
Caroline was born about 1825 and died 14 Jan 1890 at the age of 64. She married Jacob Perry who died at the age of 28 and is buried in the same lot and named on the same grave marker, as are two of their three daughters, Annie and Arabella. Apparently Caroline did not remarry and remained a widow for 35 years. She is the daughter of Harvey and Susannah (Killam) Cann. Her father is also buried in the Free Will Baptist Cemetery in a nearby lot. Also buried in the same cemetery are a sister, Druscilla (Cann) Perry, and a brother, Isaac. Another sister, who died as an infant, Arabella Hunter Cann, is buried in Founders Cemetery. No records have been found of Caroline's birth, marriage or death. Almost everything we know of her comes from her grave marker.
One of Caroline's ancestors, through her mother, may have been William Knowlton, whose grave marker in Shelburne is among the earliest for any English settler in Nova Scotia—it simply reads "William Knowlton, 1632".
More about Caroline and her family will be found in the Old Stones Family Group Sheet Index.
Please leave a comment if you have any additional information, particulary the dates of Caroline's birth and marriage and the place of her birth, marriage and death.