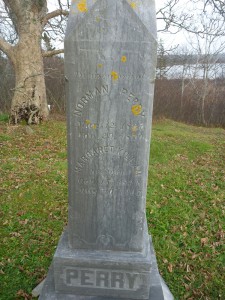 Margaret (Killam) Perry
Free Will Baptist Cemetery, Marker #16
(1833-1907)
Margaret was born 15 Oct 1833 and died 10 May 1907, the daughter of John and Maria (Goudey) Killam. She married 1st Norman Perry next to whom she is buried. He is named on the same grave marker. They had three children. Norman is the son of Cyrus and Hannah (Corning) Parry.
Margaret and her first husband, Norman Perry, lived in what is now listed as 3442 Highway 1, Port Maitland, a fairly large, well built home (which while the builder is unknown, has bay windows characteristic of builder Charles Howard Curry). The house became owned (is listed as being owned) for a short time by Margaret and her second husband, Clement Perry before being sold.
Margaret married 2nd, as his 2nd wife, Clement Perry who is buried in the Port Maitland-Beaver River Cemetery (aka Island Cemetery). Margaret and Clement had no children but Margaret became step-mother to as many as 13 children from Clement's first marriage although one or two may have died before Clement married Margaret. Clement's brother, Reuben, is also buried in the Free Will Baptist Cemetery, while their parents, William and Alice "Elsie" (Corning) Perry, are buried in Founders Cemetery. Clement's first wife was Mary Anne Saunders. Her parents, Nathaniel and Mary Ann (Kelley) Sanders are also buried in Free Will Baptist Cemetery. Mary Anne was buried in one of the Old Stones cemeteries, probably Free Will Baptist near her parents. Her remains were removed to Island Cemetery in 1902, two years after Clement was buried there.
Margaret is a Mayflower descendant. Through her mother she is descended from Mayflower passenger William Brewster.
One of Margaret's ancestors, through her father, may have been William Knowlton, whose grave marker in Shelburne is among the earliest for any English settler in Nova Scotia—it simply reads "William Knowlton, 1632".
More about Margaret and her family will be found in the Old Stones Family Group Sheet Index.
Please leave a comment if you have any additional information about Margaret, particularly the place of her birth and death and the location of the homes she shared with her two husbands.