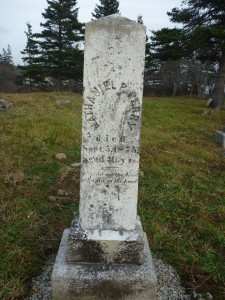 Nathaniel P Perry
Free Will Baptist Cemetery, Marker #5
(~1789-1825)
Epitaph: blessed are the dead who die in the Lord
Nathaniel was born in Woodstock, Yarmouth County about 1789 and died of typhoid fever in Maitland (now Port Maitland) 5 Sept 1884 at the age of 36. He was the son of Samuel and Hannah (Ellis) Parry. Samuel's step-sister, Mary Anne (Parry) Corning is also buried in the Free Will Baptist Cemetery. A step-brother, Samuel, is buried in the Port Maitland-Beaver River Cemetery (aka Island Cemetery).
Nathaniel is an example of members of the Perry family who sometimes spelled their surname Parry which is how it is spelled on his death record; however, we have chosen to use the spelling on his grave marker—Perry.
Nathaniel married 26 Nov 1859 Sarah Isabella Goudey, daughter of Asahel and Agnes (Muir) Goudey. We  are not aware of any children. Following Nathaniel's death Sarah married in Maitland 17 Nov 1878 James C Glavin. She moved to Massachusetts about 1890 and was living there in Everett in 1910.
More about Nathaniel and members of his family will be found in the Old Stones Family Group Sheet Index.
Please leave a comment if you have any additional information about Nathaniel, particularly whether he and Sarah had children.