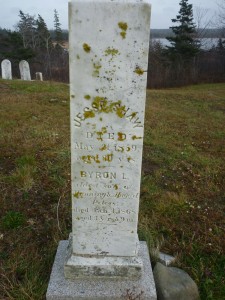 Byron L Peters
Free Will Baptist Cemetery, Marker #14
(1864-1868)
Byron was born in Maitland (now Port Maitland) about April 1864 and died there of scarlet fever 4 Jan 1868 at the age 3 years 9 months. He was the son of Edward Manning Peters, who was often referred to by his middle name, and Abigail Sanders. Abigail was the sister of Mary Jane Sanders who married Jesse Shaw which could explain why Byron is buried near his uncle Jesse Shaw who died eight years earlier and is named on the same grave marker. One might speculate that his aunt Mary Jane offered this spot as a place of burial to her sister and brother-in-law for their son. Manning and Abigail had another son born in October of 1868 who they also named Byron L Peters.
Byron appears in the Old Stones Family Group Sheet Index; however there is little information there that does not appear in this profile.
Please leave a comment if you have any additional information about Byron and his parents.