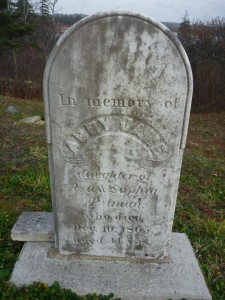 Abigail "Abby Jane" Pitman
Free Will Baptist Cemetery, Marker #22
(~1831-1865)
Abigail, called "Abby Jane" on her death record and on her grave marker, was born in Green Cove (now Port Maitland) about 1831 and died of consumption (tuberculosis) in Port Maitland (then called Maitland) 16 Dec 1865 at the age of 34 (grave marker) or 35 (death record). The informant for her death record was her younger brother Obadiah "Obed" Pitman. Abby Jane was the daughter of Asa and Sophia (Flint) Shaw Pitman whom she predeceased. She did not marry. Her parents are also buried in the Free Will Baptist Cemetery, as are two of her sisters: Catherine (Pitman) Jeffery and Matilda (Pitman) Norton.
More about Abby Jane, her parents and siblings will be found in the Old Stones Family Group Sheet Index.
Please leave a comment if you have any additional information about the life of Abby Jane.