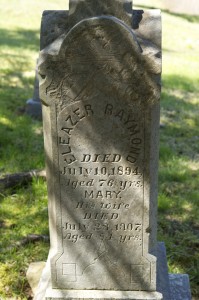 Eleazer C Raymond
Free Will Baptist Cemetery, Marker #30
(~1818-1894)
Eleazer was born about 1818 and died 10 July 1894 at the age of 76, a son of Abijah and Zilpha (Crocker) Raymond. His mother, Zilpha, is buried in the Founders Cemetery.
Eleazer was married 5 Dec 1841 in Beaver River by the Rev Harris Harding to Mary Eliza Porter, the daughter of Josiah and Edith (Corning) Porter. Josiah was buried in Founders Cemetery. Edith may have been buried there as well.
Eleazer and Mary had twelve children, 3 sons and 9 daughters, all but one of whom lived into adulthood. They had 44 known grandchildren. It has been said that over half the children born in the Port Maitland & Beaver River area in the 20th century could trace their ancestry back to Eleazer and Mary. In addition to many with the surname Raymond, seven of their daughters married and had children with the surnames Sollows, Curry, Nickerson, Moses, Brown and Crosby.
Two daughters, Lillian and Josephine were buried in the Free Will Baptist Cemetery and named on the same grave marker as their parents, as is their son Charles who was lost at sea. Eight of their children are buried in Island Cemetery, the current cemetery for Port Maitland and Beaver River.
Eleazer was a master ship builder in Port Maitland, then called Green Cove. On pages 297-298 of Historical Trails, a history of this area published in 1985, there is a list of 48 vessels—schooners, brigantines, barques and ships—built in the Raymond shipyards.
Eleazer is a Mayflower descendant, being descended through his mother and father from Mayflower passengers William Brewster and John Howland. Through his mother he is descended from passenger John Tilley.
More about Eleazer and his family appears in the Old Stones Family Group Sheet Index.
Please leave a comment if you have any additional information about Eleazer and his life. There are many things we don't know about him such as the place of his birth and death and his birth date. Photos have been found of Eleazer's wife Mary and some of their children. Is there one of Eleazer?