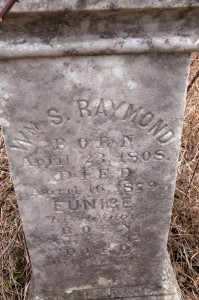 William Stephens Raymond
Calvinist Baptist Cemetery, Marker #4
(1808-1879)
William was born in Yarmouth Township, possibly in Beaver River, 23 April 1808 and died, in Yarmouth Township 16 April 1879. He was the fifth of thirteen children of Jonathan and Elizabeth "Betsy" (Robbins) Raymond who were likely buried in one of the Old Stones cemeteries and later removed to Island Cemetery, the active cemetery for Port Maitland and Beaver River. The record for their removal says they were first buried in the "old burying ground." We do not know which of the three Old Stones cemeteries had that designation. Jonathan Sr. and Betsy lived first in what is now the town of Yarmouth, then known as Cape Forchu. They settled in Beaver River sometime prior to 1820 as their home was one of only three not destroyed in the fire of that year when William was twelve years old.
William married, probably about 1828, Eunice Landers who is buried next to William and named on the same grave marker. Eunice is the daughter of Jabez and Abigail (Corning) Landers who are buried in Founders Cemetery.
William and Eunice had ten known children, three of whom, Eunice, Joanna and Charles are also buried in the Calvinist Baptist Cemetery and named on the same marker as their parents. A daughter, Susan Antoinette died in 1843 at the age of 1 year and 6 months, before the Calvinist Baptist Cemetery was built. She is buried in Founders Cemetery. The other nine children lived into adulthood and married, although four died in their twenties.
William is a Mayflower descendant. Through his mother he is descended from Mayflower passengers Isaac Allerton, John Billington and Richard Warren. Through both his mother and his father he is descended from passengers John Howland and John Tilley.
More about William and his family will be found in the Old Stones Family Group Sheet Index.
Please leave a comment if you have any additional information about William and his family, particularly the location within Yarmouth Township of his birth, death and marriage.