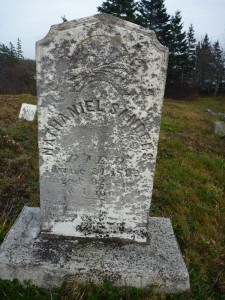 Free Will Baptist Cemetery, Marker #12
(1800 – 1892)
Epitaph: He sleeps in Jesus & is blest. How sweet his slumbers are from suffering and from sin released, and free from every care
Nathaniel's Father was also named Nathaniel Sanders – son of  Joesph Sanders who married Sarah Hill. Nathaniel's older brothers William and John were born in Haverhill Mass,  another older brother born in Salem NH
Nathaniel's family removed to Yarmouth 2 July 1763., where Nathaniel and his other siblings were born – Phoebe, Henry and twins (Mary and Nathaniel) all of whom were born in Yarmouth, NS
Information about his marriage, parents and children may be found in the Old Stones Family Group Sheet Index.
Please leave a comment if you have information about Nathaniel and his family.
Nathaniel is a descendant of Thomas Rogers a Mayflower passenger, and William Bradford, William and Mary Brewster and their son Love, and of Edward Doty.
Nathaniel's Mother – Lydia Rogers is daughter of Cornelius Rogers and Abigail Holmes who is daughter of  Peleg Holmes .
The homestead of Peleg Holmes was located in Chebogue near present day Tri County Vets (Holmes landing). Peleg was a grantee,  moving here before 12 September 1762, when their daughter Lucy was born in Yarmouth .