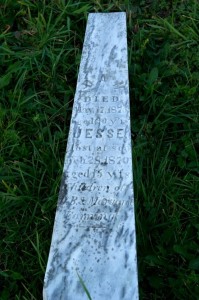 Founders Cemetery, Marker #32
(~1854-1870)
Jesse Lee was born about 1854 and was lost at sea 28 February 1870 at the age of 15.
He shares a grave marker with his sister Ida May. They have the same ahnentafel, which is listed in the profile for Ida. Jesse and Ida may have been twins, as each was born in or about 1854; however, more research is needed. Jesse's mother, Margaret, is also buried in Founders Cemetery.
More information about Jesse, his parents and siblings may be found in the Old Stones Family Group Sheet Index.
Please leave a comment if you have information about this interesting family.