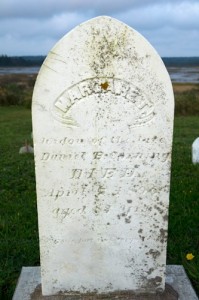 Founders Cemetery, Marker #27
(~1808-1896)
Epitaph: Gone but not forgotten
Margaret has one of the most fascinating stories of anyone buried in the Old Stones Cemeteries. She may have been born between 1807 (grave marker says she died age 87) and 1816 (the 1881 census says she was 65 when it was taken). Other records say she may have been born as early as 1801. According to her grave marker, Margaret died 7 April 1864.
It is possible that Margaret was born a Goodwin and her first husband shared the same surname. In any case, Margaret probably married about 1829, as her first husband, Aaron Goodwin, son of Nathan Goodwin and Abigail Morton. A Margaret or Peggy Goodwin was born in Argyle, Yarmouth County about 1807; the daughter of Jedediah or Jeremiah Goodwin and Bridget Welsh.
When Margaret married, probably before Oct 1839 (the birth of their first child, Ansel), as the second of her three husbands, Theophilus Crosby, she was described as Margaret Goodwin, widow.
Following the death of Theophilus and probably before June 1850 (birth of their daughter, Margaret) Margaret married, as his second wife, Daniel Batchelder Corning. Daniel and his first wife, Abigail Parry had a son Daniel who married Mary Crosby, daughter of Thelophilus Crosby and his first wife, Caroline Welch.
At the time of the 1881 Census Margaret Corning was the head of a household in the Ohio Sub-District, which probably included Beaver River. Also in the household were Leoma Goodwin, age 40, who was probably a daughter from her first marriage, and Frank G Corning, a son from her third marriage.
Margaret outlived three husbands, one of whom is buried next to her, Theophilus Crosby. We do not know the burial place of the the other two. She outlived three children by her marriage to Theophilus (2 sons named Ansel and Elizabeth Ann); two children by her marriage to Daniel (Ida May and Jesse Lee); and two step-children (John W and Abigail K) from Theophilus's first marriage whom she obviously helped raise. They are all buried in the same row in Founders Cemetery.
More information about Margaret and her three families may be found in the Old Stones Family Group Sheet Index.
Please leave a comment if you have information about Margaret, particularly if you are able to identify her parents.