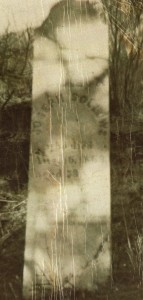 Founders Cemetery, exact location unknown
(~1790 – 1869)
Joseph Sollows was, according to page 64 in "Historical Trails" – the High Hopes Senior's book published in 1985 – the earliest settler in the Port Maitland area.
The photo to the left is of his gravestone circa 1974, before the cemeteries were cleared – since that time, but before the work clearing the cemeteries was done, the stone has gone missing, so the exact location of his grave is unknown, although it is thought it is quite near the flagpole in the present Founders cemetery.
Joesph was born about 1790, and died at about age 79 on Aug 16,1869.
Joesph was married to Elizabeth Cann, and the couple had 6 children. Joesph and Elizabeth were descendants of William Knowlton.
Joesph's original house no longer exists, but a home is now on the same site (and the owners have said the current home was built on the original foundation) as the original – at 3202 Main Shore Road, Port Maitland.
One of Joesph's sons, Calvin, lived in house 3121 Highway 1, Port Maitland when he bought land from Joesph after getting married. Joesph owned a large tract of land, including that house lot – the baseline running from what is now Green Cove Manor, to an area near the lighthouse and squared off by what is now the Baptist Church.
Information about his marriage, parents and children may be found in the Old Stones Family Group Sheet Index.
Please leave a comment if you have information about Joesph and his family.
Ahnentafel of Joseph Sollows:
a descendant of William Knowlton
(only a guide; sources not given; all information should be verified)
1st Generation
1. Joseph Sollows, b Yarmouth Township N.S. abt 1790; d, of dropsy, Maitland (now Port Maitland), Yarmouth Co N.S. 16 Aug 1869; bur Founders Cemetery, Beaver River, Yarmouth Co N.S. (only a photo remains of his grave marker); farmer; descendant of William Knowlton; m Elizabeth Cann.
2nd Generation
2. Walter Sollows, b Yarmouth Township N.S. 12 May 1768; m 6 Jun 1788 Anna Rose by Rev. Jonathan Scott.
3. Anna Rose, b Yarmouth Township N.S. 23 Apr 1768; descendant of William Knowlton.
3rd Generation
4. John Sollows, b 10 Aug 1731; m 17 May 1753 Anna Elwell.
5. Anna Elwell, d Yarmouth Township N.S. 5 Jan 1776.
6. Richard Rose, link to Richard, his wife Martha, and their ancestors.
4th Generation
8. Thomas Sollows, b 10 May 1703; d Jamaica 1734; m 29 Sep 1724 Sarah Ogilvie.
9. Sarah Ogilvie.
5th Generation
16. Thomas Sollows, b 24 Oct 1665; d 28 Mar 1747; m Abigail Wallis.
17. Abigail Wallis.
18. Walter Ogilvie.
6th Generation
32. John Sollows, link to John, his wife Hannah, and their ancestors.
34. Caleb Wallis.
Joesph Sollows –
died Aug 16 1869 <GRM>
age at death – 79 <GRM>