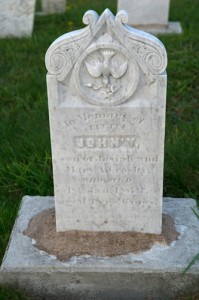 Johnny Crosby "Little John'y"
Founders Cemetery, Marker #19
(~1848-1853)
Epitaph: Beneath this stone in sweet repose is laid a parent's dear pride
Johnny was born abt July 1848 and died 18 January 1853, aged 4 years, 6 months, the son of Mary Ann Raymond and Josiah Crosby. He is the grandson of Theophilus Crosby who is also buried in Founders Cemetery. Johnny's brother, Capt Percy Egbert Crosby is buried in Island Cemetery in Port Maitland.
Johnny is a Mayflower descendant, being descended from Mayflower passengers, Isaac Allerton, John Billington, William Brewster, John Howland, John Tilley and Richard Warren.
More information about Johnny and his parents may be found in the Old Stones Family Group Sheet Index.
Please leave a comment if you have information about Johnny, particularly the cause of his death.