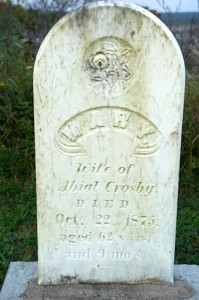 Mary (Ellis) Crosby
Founders Cemetery, Marker #57
(~1813-1875)
Mary was born abt January 1813 and died 22 October 1875, aged 62 years, 9 months, the daughter of Benjamin Ellis and Rebecca Raymond. She married Abial Crosby who is buried next to her. Mary is the sister-in-law of Abigail (Sollows) Ellis who is also buried in Founders Cemetery. Abigail married Mary's brother Edmund Jacob Ellis.
Mary is a Mayflower descendant, being descended from Mayflower passengers, John Howland and John Tilley.
More information about Mary, her parents and children may be found in the Old Stones Family Group Sheet Index.
Please leave a comment if you have additional information about Mary and her family.